Harmony in five levels of difficulty
This has been doing the rounds on my Facebook and I thought it was useful enough to share here.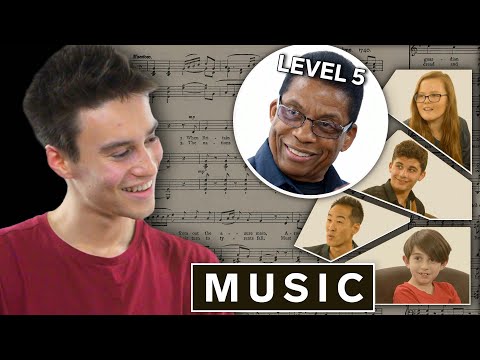 I'll confess I'd struggle to define the concept of harmony in precise words even though anyone who plays a polyphonic instrument is in the business of harmony and instinctively knows what it is.
Having said that, the undertow of the more advanced parts of the video is: any chord goes with any melody note - there are no right or wrong answers, just a challenge to make a coherent and meaningful musical journey.
(on a personal note I was pleased I didn't start thinking "how did he do *that*!!!" until the professional musician stage. Even the pro pianist having the lesson seemed genuinely impressed to be learning new concepts.)
Also it shows the polyphonic limitation of the standard guitar. Try playing that run of 5ths like he does on the keyboard and you soon run out of fingers and notes.
I do wonder about the final jam he has with Herbie Hancock. Spoiler alert - I cannot discern any of the original melody in their playing. A bit like how I feel about jazz most of the time - it becomes such a dense tangle of harmony that it genuinely sounds to me as if they are playing any note they want to, and it fits into some sort of obscure harmonic structure or other. Not that I have much of a choice, but I think I'll stick to aspiring to level 4!
0
LOL
0
Wow!
0
Wisdom
·