Matthew Halsall To Broadcast Live Concert Film .
Good evening, I have been blown away by the response to my new album Salute to the Sun, but this has been a really hard year for most people. Oneness and togetherness are important to me as an artist and as a person. And so it felt right to get together with my regular collaborators and try to create something special to share with you all.

On January 21 at 8pm UK time we will broadcast our live concert film, Salute to the Sun, filmed at the beautiful Hallé St Peters church in Manchester.

We will donate all the profits from this film to the charity Mind and have created some extra-special exclusive VIP packages for you including a bundle of exclusive post-cards featuring photos from the event taken by Emily Dennison and designed by Danial Halsall and a unique Art-print poster of the album art-work especially commissioned from Ian Anderson of The Designers Republic.

More info and tickets here: dice.fm/artist/matthew-halsall-a96q

I would also like to personally thank, George Atkins of 80 Hertz Studios, Lewis Howell, Luca Rudlin & Rich Williams of Staring People and everyone at Dice FM and Halleé St Peter's for their generous support in helping us create this event and support Mind. And of course my wonderful band without whom none of this would be possible.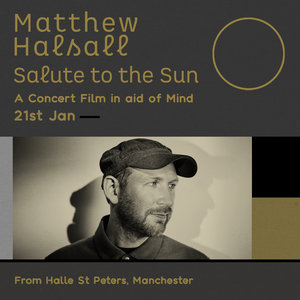 0
LOL
0
Wow!
0
Wisdom